Authored by Anna Kallschmidt
Can the interests of laborers and management align on the same minimum wage?
Recent work by GLOW Researchers Mendiola Teng-Calleja, Donald Jay Bertulfo, Jose Antonio R. Clemente, and Ma. Ligaya M. Menguito in the Philippines are supporting national movements to shift from "minimum wages to "living wages." In the Philippines, 26.3% of people live in poverty. Additionally, workers' groups are emphasizing that minimum wage is not allowing them to utilize their capabilities or live a quality life. However, Silvestre Bello III, the Secretary of the Philippines' Department of Labor and Employment, has expressed that higher wages can only be justified if they balance the interests of labor and management.
Teng-Calleja and her team have led an ongoing project to seek justification of living wages. Ideally, minimum wage would be a livable wage. The article distinguishes between minimum and living wages, where the former allows for sustenance and making ends meet, but the latter allows workers to pursue a good life and opportunities they value, such as supporting their family and participating in recreational activities.
Through a series of linear, quadratic, cubic, logistic, Gompertz, and exponential analyses, Teng-Calleja and colleagues tested the relationship between wages in low-to middle-income communities and the eleven dimensions of magandang buhay or "the good life" (See Figure 1). This is a measure which conceptualizes a person's quality of life through their perceived opportunities, freedom and capacity to attain valued outcomes ("capabilities"). People who possess this quality of life are anticipated to participate more in society.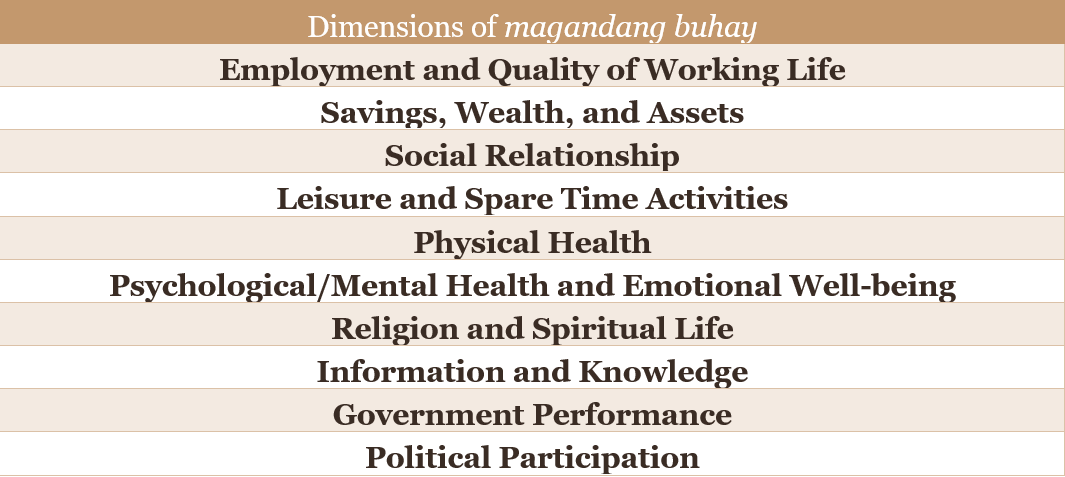 Currently, the research team is completing two manuscripts for publication, which explore the relationships among wages, well-being, quality of life, and capabilities. These papers will be presented at conferences including the Equality, Diversity and Inclusion conference in August, where Project GLOW will have a symposium.

Teng-Calleja and her team are being invited by a workers' institute to share their study in the National Conference on Philippine Anti-Poverty Conference this July. Teng-Calleja noted she hopes
"This will push through so we can contribute evidence-based perspectives on wages that may help workers' groups (national workers' organizations like the Kilusang Mayo Uno/ May 1st Movement and TUCP) in their clamour for higher minimum wage. This was actually our main intention."
While the research team's work has definitely impacted their part of the world, Dr. Teng-Calleja encourages the rest of the GLOW community to investigate these relationships in their own countries.
"We hope that members within the GLOW network will find the method sound and useful so it can help determine living wages in their respective countries using not just economic but psychology concepts as well – wages, capabilities and well-being." –Mendiola Teng-Calleja, Ph.D.